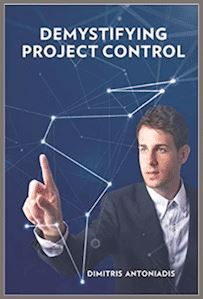 This is the first of many interviews that we are planning to conduct so you get to know the authors of some of the great books in project controls, project management, project leadership, and career growth. We believe that the interviews can not only help you get to know the authors better but also inspire you to do better and grow in both your career and your personal life.
We had the honor of interviewing a well-known expert in project and program management, Dr. Dimitris Antoniadis. He's the author of Demystifying Project Controls. He was awarded a Ph.D. from Loughborough University, UK, for his research on the subject of 'Managing Complexity in Project Teams'.
Please listen to the interview to learn more from the insights of Dr. Dimitris Antoniadis.
Get the full video interview, summary, transcript, podcast link, mp3 download, shareable quotes, and other posts related to this episode and topic at https://www.projectcontrolacademy.com/demystifying-project-controls/
If you enjoy this episode, please be sure to take a screenshot and share it out on Instagram and tag us @projectcontrolacademy. Also, please make sure to subscribe and give us a review on iTunes.
--------------------
FREE RESOURCES
--------------------
➡️ Listen & subscribe to the "Project Control Mastery Podcast" on iTunes to get the latest tips in Project Controls: https://itunes.apple.com/us/podcast/project-control-mastery/id1202657673
➡️ Learn How to Succeed in Project Controls and Grow Your Career [ free video training series]: https://projectcontroltraining.com/training/
➡️ Get free training series on Earned Value Management at http://www.projectcontroltraining.com/evmfreetraining
--------------------
FOR DAILY RESOURCES ON PROJECT CONTROLS
CONNECT WITH SHOHREH & PROJECT CONTROL ACADEMY:
--------------------
Website: https://www.projectcontrolacademy.com
LinkedIn: https://www.linkedin.com/company/project-control-academy/
Instagram: https://www.instagram.com/projectcontrolacademy
Facebook Community: https://www.facebook.com/ProjectControlAcademy/
-------------------
SUBSCRIBE TO GET THE LATEST PROJECT CONTROL TRAINING AT YOUR FINGERTIPS !!
--------------------
➡️ Subscribe to YouTube: https://www.youtube.com/c/projectcontrolacademy?sub_confirmation=1
➡️ Subscribe to iTunes podcast:  https://itunes.apple.com/us/podcast/project-control-mastery/id1202657673
➡️ Join the newsletter & receive new training videos in your mailbox: https://projectcontroltraining.com/training/